Jayden Parkinson killing: Jury told it can give majority verdict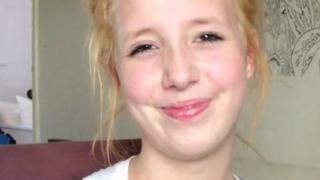 A judge in the trial of a man accused of murdering his pregnant ex-girlfriend and burying her in his uncle's grave told jurors he would accept a majority verdict.
Ben Blakeley, 22, admits killing Jayden Parkinson, 17, and burying her near Didcot, Oxfordshire, but denies murder.
His brother, Jake Blakeley, 17, admits perverting the course of justice.
Jurors, out since last Wednesday, have resumed deliberations at Oxford Crown Court after a two-day break.
They previously heard Ben Blakeley strangled Jayden during an argument.
He said he had grabbed her around the throat but had not intended to kill her and thought she was joking before realising she was dead.
Jayden was last seen on 3 December when she met Mr Blakeley, of Christchurch Road, Reading, to discuss her pregnancy.
Her body was found 15 days later. A post-mortem examination revealed she died from pressure to the neck.
Ben Blakeley has told the jury that he dug two shallow graves, one in the countryside close to where he strangled her, and the second in the grave of his uncle, Alan Kennedy, at All Saints' churchyard in Didcot.
He moved the body in a suitcase to the second grave five days after killing her.
Jake Blakeley, of Venners Water, Didcot, denies preventing her lawful burial.
He told the court he had helped his brother with both burials but claimed he did not know they were burying a body.