Middlesbrough fans banned for life for ripping up Koran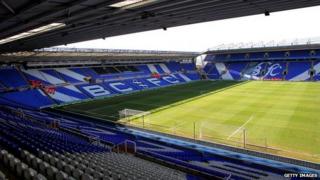 Three football fans have been banned for life from their club's ground for ripping up the Koran during a match.
Middlesbrough supporters Gemma Parkin, 18, and Julie Phillips, 50, were found guilty in May of "shredding" pages at an away game with Birmingham City.
Mark Stephenson, 25, was fined in March after admitting the same offence of "racially-aggravated" harassment.
Middlesbrough FC would not confirm whether Stephenson, Parkin and Phillips were those permanently banned.
Spared banning order
The club said of the six fans involved, two others had been banned for a year and one had been suspended while they were out of the country.
"The incident led to charges and convictions for some of the individuals at Birmingham Magistrates' Court in May," a spokesman said.
Phillips, of Kenmore Road, Middlesbrough was fined £300 and ordered to pay £400 costs after "making confetti" at Birmingham's St Andrew's ground on 7 December.
Parkin, of Kimberley Drive, Middlesbrough was fined £200 with £400 costs. Stephenson, of Bicton Heath, Shrewsbury, was fined £235 with £105 costs and a £23 victim surcharge.
All three were spared a football banning order which would have stopped them going into any ground in the country.