Why Bury St Edmunds MP David Ruffley had to resign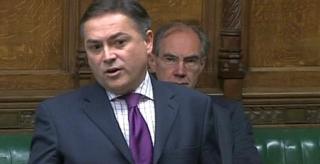 It is a cruel fact of political life that when an MP is forced to stand down it is the scandal the public generally remembers rather than anything else about their career.
Those are the unfortunate circumstances surrounding David Ruffley, who has announced his resignation after being arrested and accepting a police caution for assaulting his former partner.
For 17 years he has been a highly engaged MP. He won his seat in Bury St Edmunds with a majority of under 400 in 1997. Last time round he held it with a majority of more than 12,000.
A former advisor to Ken Clarke, he became a specialist in financial matters and for many years was a respected member of the Treasury Select Committee. He became a party whip and while in opposition held a couple of shadow ministerial positions.
In recent years he played a large role in forcing banks to lend to small businesses in the region, he was behind the successful campaign to stop the A14 becoming a toll road and he championed the not so successful attempt to make St Edmund the patron saint of England.
We'll probably never know exactly what happened at his Westminster flat on a Saturday evening in March, but the police clearly considered it serious enough to arrest Mr Ruffley and caution him for assault.
When the story broke three months later Mr Ruffley believed that if he said nothing it would go away - but it didn't. Domestic violence is high on parliament's agenda. MPs are being lobbied to take it more seriously and not allow it to be swept under the carpet.
Dean's letter
This has not been the Conservative Party's finest hour either. Its one line statement considered that "the matter was dealt with at the time by the police and we consider the case closed".
MPs refused to talk about it (even in private conversations), so too did the local association.
It took a letter from the Dean of St Edmundsbury, the Very Reverend Canon Dr Frances Ward, describing the impact of Mr Ruffley's assault upon his former girlfriend, to shake the party into action. The dean detailed how "when I went to hug her she winced with pain".
Mr Ruffley put out an apology and the Conservatives referred the matter to the chief whip, Michael Gove.
The dean copied her letter to a number of leading Conservatives in Suffolk (including the former Party Chairman Lord Tebbitt and Suffolk's Police and Crime Commissioner, Tim Passmore) which shows that behind the scenes there was a lot of concern at a local level.
But few felt they could say anything in public and women's rights groups have found this wall of silence offensive.
Local MPs whom we've spoken to insist that they are appalled at what Mr Ruffley did and agree that he has done the right thing in standing down.
They say they didn't speak out at the time because this was a matter between the MP and his local party. They were also mindful that Mr Ruffley has been unwell in recent years and they were concerned for his well being and that of his former girlfriend.
But it hasn't looked good and now that this matter is over fences need mending and the party needs to make its feelings on this issue very clear.
Mr Ruffley will no doubt be devastated about leaving politics. He has always enjoyed doing the job and his grasp of what might happen next in the political sphere was often spot on.
Last year his party re-selected him to fight the next election and he was looking forward to another term in parliament but these days a caution for assault cannot be overlooked.