Devon and Cornwall road closures 'costing millions'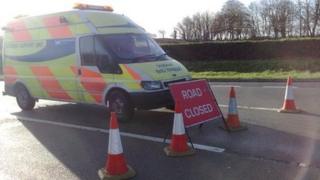 Business leaders say they are concerned about the closure of Devon and Cornwall's main roads after they were shut almost 500 times over five years because of crashes and bad weather.
The figures from the Highways Agency relate to the M5, A30 and A38.
The Devon and Cornwall Business Council said it had cost the economy millions of pounds.
Devon and Cornwall Police said they aimed to reopen a road "as quickly as we can".
The details emerged following a Freedom of Information request to the Highways Agency, which said there were 486 closures on the three roads from 2009-13.
M5, A30 and A38 closures
2009 - 118
2010 - 90
2011 - 52
2012 - 111
2013 - 115
Source: Highways Agency
David Ryeland, who runs a holiday park near Exeter, said: "Closures seem to be happening too often. It's a bad advert for the region."
Tim Jones, chair of the Devon and Cornwall Business Council, said: "Roads are our lifeline. We estimate a closure of the M5 costs our economy about a million pounds an hour. We need closures minimised."
Insp Richard Pryce, of Devon and Cornwall Police, said: "We understand the concerns of the business community, but when there's a crash the law requires us to carry out certain investigations.
"We always try to reopen a road as quickly as we can."
The number of road closures has prompted business leaders to renew their calls for the A303 to become a dual carriageway along its entire length to provide an alternative route to the M5.
The topic of a A303/A30/A358 corridor is being analysed as part of a government study.