Killed motorbike racer Tim Moorhead 'knew of risk'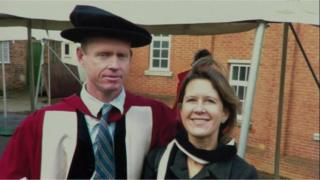 The wife of a man who died in a motorbike crash on the Isle of Man has paid tribute to a "much-loved" husband.
Tim Moorhead, 50, from Whitstable in Kent, was killed during the qualifying session for the 2014 Manx Grand Prix on Friday.
It was the second death at the event in four days after Stephen Mcllvenna, 39, died in a qualifying session on Tuesday.
Organisers said investigations into both deaths were under way.
Mr Moorhead's wife Sheila said: "Tim - I was going to say was, but he is - a very much-loved husband, father, step-father, step-grandad.
"He's been loving racing for quite some time now, and we both knew that there was this risk that something like this might happen and we both lived with it, and we were quite open about it."
'Real example'
Mr Moorhead was an associate lecturer at Kent Law School and had just had his first book published.
He crashed just before the Black Hut, on the mountain section of the course. It was the third time he had entered the Grand Prix.
He made his Manx Grand Prix debut in 2012, Manx Motor Cycle Club said.
The Coroner of Inquests in the Isle of Man has been informed.
Mrs Moorhead said: "I feel he's been a real example to my children and to other people that he's known, and I'm just very grateful for the time that I've had being married to him - approximately 20 years."