Sunbeds in North East tanning salons broke radiation rules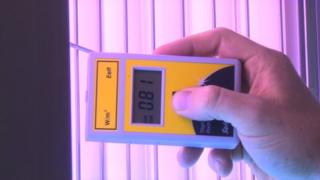 About two thirds of tanning salons in the north-east of England have been exposing customers to dangerous levels of UV radiation, BBC Inside Out has learned.
Trading standards officers in Newcastle found 84% of sunbeds were emitting up to three times too much.
On North Tyneside 80% of salons were not complying with the law; in Durham 62% of beds were illegal.
Middlesbrough consultant dermatologist Dr Rob Ellis said it was "shocking".
"UV at those doses is a carcinogen," he said.
The legal radiation limit is 0.3 watts per sq m.
'Scary' readings
Middlesbrough Trading Standards principal officer Sinead Upton said they had recorded levels as high as 1.02 watts per sq m.
"You're talking three times the permitted limit," she said.
Some Newcastle salons were still using high strength tubes two years after being warned in the city council's first round of testing.
Trading standards officer Paul Leighton said some of the readings taken were "scary", at 0.8 and 0.9 watts per sq m.
"They're dangerous for members of the public and they should be made aware of that."
Dr Ellis said tanning shops "do seem to be trying to produce the strongest and most powerful lamps".
"The lamps are three times as strong - does that equate to three times the skin cancer risk? I think it could potentially be a lot more than that," he said.
Sunderland trading standards officers stressed that, since being tested, all salons were now complying with regulations.
Inside Out is broadcast on BBC One in the North East & Cumbria at 20:00 BST on Monday, 8 September 2014 and is available for seven days on the BBC iPlayer.