Jet2 apology after emergency landing at East Midlands Airport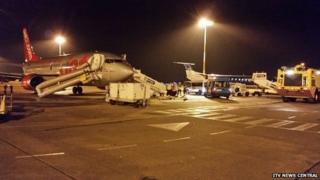 An airline has apologised after passengers complained they were not cared for following an emergency landing at East Midlands Airport.
Witnesses said cabin crew on Wednesday's Jet2 flight from Ibiza lost control when smoke filled the cabin after touching down.
It led to chaos with some people escaping on to the plane's wing.
Adrian Pepper, from Derbyshire, said he was angry with Jet2 for its "lack of care" following the evacuation.
A Jet2 spokesperson said it would be writing to all passengers individually.
The company said on Thursday that all passengers had been looked after by its airport team after disembarking flight LS644.
However, Mr Pepper, from Mickleover, who claimed he felt traumatised by the experience, accused airline and airport staff of a "lack of support".
"They failed miserably to control the situation," he said.
"We were not looked after... We were not offered support or [even] a drink in the baggage area."
Another passenger Kyle Charles, from Strelley Village, Nottinghamshire, says he has not been able to sleep since the incident and expected at least a follow-up phone call from the airline.
A Jet2 spokesperson said: "We are sorry to hear that some passengers felt they weren't looked after.
"Our crew did everything they could to get all passengers off the aircraft as quickly and safely as possible and medical staff were in attendance."
A spokeswoman for East Midlands Airport said: "We understand that passengers who arrived on this flight would have experienced distress and the airport would like to assure passengers that safety is our priority, in addition to passenger welfare."
She added that seating and water had been provided for passengers and additional staff were deployed.