Coastguard 999 calls transferred to new Hampshire centre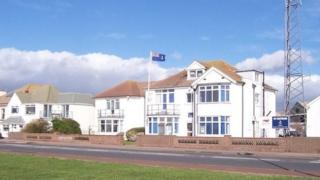 A new national maritime centre, which will eventually replace two coastguard stations, has started operating in Hampshire.
The Maritime and Coastguard Agency facility near Fareham has taken over 999 calls handled by the Solent station in Lee-on-the-Solent, which will close.
Portland's station in Dorset will be replaced next Monday.
The government claimed the move would "modernise" the service and cut costs, but it has been criticised by unions.
The new National Maritime Operations Centre (NMOC), which will co-ordinate search and rescue services, will be run alongside 10 other centres around the UK.
A spokesman for the Public and Commercial Services Union said it still had "serious concerns" about the MCA's ability to manage an emergency service using the centre.
He said: "Very worryingly, the MCA has failed to take with them the number of experienced staff they hoped they would, so they're having to bring in new people to train up which we warned would happen.
"We think this will lead to a knowledge drain across the agency."
The MCA said 47 coastguards are working at the NMOC with 14 having transferred across from Portland and Solent.
This will increase to 96 once the national network is fully operational in December 2015.
Matthew West, who has transferred from Solent, said: "Coastguards at the NMOC have been through an extensive training programme in the past few months, including live exercises with lifeboats and coastguard rescue teams.
"It's an exciting time for us as we now have a new state-of-the-art operations centre where we can put our knowledge and skills to good use in co-ordinating search and rescue missions."
The MCA said there would be no reduction in rescue resources, although the coastguard helicopter based at Portland is due to be replaced by a regional service in 2017.