Police chief Chris Eyre calls for fewer East Midlands chief constables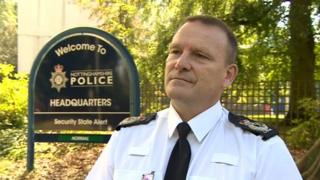 An East Midlands police chief has said the region's chief constables could be reduced from five to one.
Chris Eyre of Nottinghamshire Police suggested he was a "turkey voting for Christmas" but said it was "inefficient" for collaborating forces to report to multiple chief constables.
His comments came after a call by the Police Superintendents' Association to reduce the number of forces nationally.
The government said mergers would distance forces from communities.
The East Midlands forces - Nottinghamshire, Derbyshire, Leicestershire, Lincolnshire and Northamptonshire - have been collaborating for more than a decade in areas including serious organised crime, firearms and forensics.
Mr Eyre said: "Is this is a turkey voting for Christmas? I guess part of it for me is that we can't carry on in the way we deliver business.
"If you look across policing at the moment in many, many forces there are collaborations being built between police forces, where we have teams of people reporting to two, three, four, five chief constables.
"It's inefficient, it doesn't make sense and it creates a bureaucracy that we can get rid of."
'Clear as crystal'
Police Superintendents' Association president Irene Curtis said there were "too many chief constables and too many police and crime commissioners" in England and Wales, ahead of the association's annual conference in Warwickshire.
She said some forces were "virtually merging in all but name and senior leadership ranks".
But Policing Minister Mike Penning said mergers would "reduce, rather than increase, the quality of neighbourhood policing".
Mr Eyre said that Police and Crime Commissioners could continue to hold local services to account under a single chief constable.
Nottinghamshire PCC Paddy Tipping also supported the association's comments.
He said: "I'm very keen that we do things on a more regional level whether that means greater collaboration, integration or ultimately changing the structure.
"It's clear as crystal that that's the route we've got to go."