Northern England waits for Scottish independence vote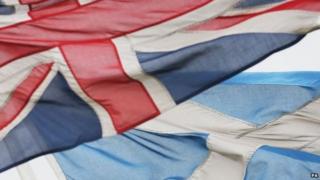 With the result on a knife-edge, the people of the North East and Cumbria are waking up to the possibility that what may have seemed a symbolic border with Scotland could soon become a real one.
The border counties of England have plenty in common with their northern neighbours.
The North East has a similar industrial history - and like Scotland had to cope with the decline of traditional employers like mining and shipbuilding.
Like Scotland, Cumbria, Northumberland and Durham also have large areas of rural wilderness and beauty.
Like Scots' voters, the North East in particular now elects very few Conservative MPs.
On the border
But with devolution some of the differences have become more obvious in recent years - differences that can seem starker when you live on the border.
Berwick Academy in Northumberland takes pupils from both England and Scotland, but when it comes to the sixth form, the Scottish students know they can avoid tuition fees by applying to one of their country's own universities. For the English pupils, they're unavoidable.
Next week some of those sixth formers will have a vote on the future status of the border, some won't.
There are also strong connections. Many people work on one side of the border, and live on the other, both in Northumberland and Cumbria.
Some may have a GP on the other side of the border or cross it for hospital services.
All of these connections may survive independence - but they may get more complicated, even if concerns over currency and border controls prove unfounded.
Different country
And yet despite all these links, there are differences. When I was a junior newspaper reporter at the Cumberland News in Carlisle, we covered both Cumbria and South West Scotland.
I had to visit the Scottish border communities of Annan, Langholm, and Ecclefechan for a "Down Your Way" feature profiling the local community.
Except it didn't really feel down my way at all. I could tell I was entering a different country. People weren't hostile, but they didn't feel much connection with an English reporter from a newspaper based just south of the border.
That's not to deny the common heritage the south of Scotland has with the border counties of England - but you'd be mistaken to think that border has been purely a symbolic line for the last 300 years.
And today's Scotland is seen by some as a rival to the North - a competitor for investment and jobs.
Politicians in the North East and Cumbria have looked longingly at the growing powers and freedoms of the Scots and their parliament.
There are fears that competition could get starker if Scots vote yes.
The SNP's plan to cut corporation tax could make it cheaper to move businesses north of the border.
Newcastle Airport fears a plan to cut or abolish air passenger duty in Scotland could see travellers and airlines go to Glasgow and Edinburgh instead.
But then we are told a no vote will also now see a range of new powers passed to the parliament - making the apparent power divide with the north of England even more gaping.
MPs in the region - Labour, Conservative and Liberal Democrat - have all told me in recent weeks that the North will then need its own devolution moment to counterbalance a more empowered Scotland.
Panicked politicians
But what kind of moment remains undefined.
In its own referendum in 2004, the North East's voters overwhelmingly rejected the idea of a regional assembly - 78% voting no. (With uncomfortable echoes for the no campaign north of the border I remember a deluge of panicked politicians arriving in the last week - including PM Tony Blair and then Lib Dem leader Charles Kennedy).
There are those who think that idea isn't as dead as that vote suggests - a new North East party has formed to campaign for an assembly with more bite than was offered 10 years ago. It's a long way from being a northern version of the SNP though.
And Labour MPs, wary of being burnt again, are largely unenthusiastic about a revived assembly.
Existing cities, councils and local enterprise partnerships are seen as the more likely beneficiaries of new powers.
The Conservatives see metropolitan mayors as a possible solution - although inconveniently voters in Newcastle rejected the idea of a mayor in 2012.
Others talk of an English Parliament - although northern voices could only be a part of that.
Nobody is yet sure whether any of these will provide the North with a true counterpoint to the Scottish Parliament.
There are no ready solutions - but, with or without Scotland the way the UK is governed seems certain to change after 18 September.
And while the independence referendum may not be arousing the passions it does north of the border, in England's most northerly communities, the result really is beginning to matter.