South East interest in English devolution after Scottish referendum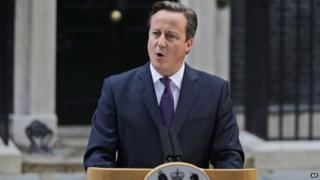 The lights remained on all night in Downing Street - I am told David Cameron was following the results closely.
No doubt there was a huge collective sigh of relief behind the famous black door when it became clear that the people of Scotland had rejected independence and voted to remain part of the union.
Certainly, it was a bullish David Cameron who addressed the waiting press pack just after 07:00 BST.
He said he was delighted with the decision which he said had settled the matter for a generation.
Promising to deliver on devolution in the next parliament, he said there was now "a great chance" to change the way British people were governed and all parties bore a great responsibility to work together.
But Mr Cameron also said there must be a new and fair settlement, which applied to all parts of the UK. He said he long believed that a crucial missing part was England and its millions of voices must be heard.
'Financial goody bags'
A decisive answer was needed on the so-called West Lothian question, which allows Scottish MPs to vote on issues which only affect people living in England. He said MPs in England should be allowed to decide the outcome of laws that only apply to the country.
Mr Cameron will be relieved to have survived what was, arguably, the biggest test of his leadership so far.
But he now faces a tough time ahead. He is already facing calls from many of his own backbench MPs - angry at the concessions made to Scotland in the last few days of the campaign - to take a firmer stance towards Scotland.
Even some of his ministers, including the rail minister Claire Perry, have attacked the "financial goody bags" on offer to Edinburgh.
Mr Cameron tried to address some of those concerns today, and after promising more powers for the Scottish Parliament he said there must also be devolution for England.
'Proper voice'
There is now a clamour for that, with one of the most vocal demands coming from the UKIP leader and South East MEP Nigel Farage.
He said the time had come for an English Parliament, to give the country a "proper voice" in the UK and called for a constitutional convention.
Mr Farage, whose party has no MPs but topped the Euro elections, also called for Scottish MPs to give up their right to vote on England-only issues.
David Cameron has promised greater devolution to English cities but even that may not be enough.
The counties of England have already expressed "disappointment" that he only spoke of giving power to cities.
They argue that the "counties play a larger role in the UK economy than cities ever will". A county the size of Kent could well feel aggrieved that more powers could be given to cities yet its power would be unchanged.
The genie is now out of the bottle and while David Cameron has won the battle to keep the United Kingdom together, he now faces increasing demands over greater devolution to England as the General Election approaches in May.