Hampshire and Isle of Wight Air Ambulance will fly at night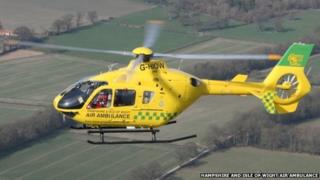 Hampshire and Isle of Wight Air Ambulance (HIOWAA) is to carry out night flights, it has announced.
The charity will upgrade to a new helicopter next year allowing crews to attend emergencies 24-hours a day.
Chief executive John Perry described it as a "considerable achievement" for the seven-year-old charity.
Thames Valley and Chiltern Air Ambulance (TVCAA), which serves Berkshire, Oxfordshire and Buckinghamshire, will also do the same.
The move comes after the HIOWAA started carrying blood earlier this year.
It is also working towards a target of ensuring there is a doctor on board every flight in 2015.
The charity said it was able to commit to the new initiative after the success of its Minutes Matter Campaign, which has raised £1.5m in cash and legacy pledges.
Mr Perry said: "It is thanks to the generosity and commitment of the people of Hampshire and the Isle of Wight that we are able to take this important step forward and commit to night time flying."
The organisation will start using the enhanced model EC135T3 helicopter, which it leases from Bond Air Services Ltd, next year.
Since its launch in 2007 HIOWAA has undertaken more than 5,000 missions. It costs more than £4,000 per day to keep it flying.