Rushcliffe and Melton wind turbine impact report defended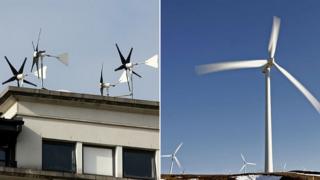 A report into the visual impact of wind turbines has been criticised by campaigners for being too restrictive.
Melton and Rushcliffe borough councils commissioned an environmental consultancy to examine how the landscape might be affected.
A local Friends of the Earth group claimed it "seriously overstated the impact of turbines" and would be used to routinely reject applications.
But officials said the study was just one part of how turbines were assessed.
The report divided the boroughs, which are in Nottinghamshire and Leicestershire, up into 28 areas called Landscape Character Units.
'Sensitive areas'
It found "all of the Landscape Character Units assessed are of either 'moderate-high' or 'high' sensitivity to wind turbine developments of over 75m to blade tip, and all but one of the Landscape Character Units have a 'high' sensitivity to turbines of over 110m to blade tip."
Nigel Lee, from Friends of the Earth and the Nottingham Pro Wind Alliance, said larger turbines were needed as they were more efficient.
He added: "It takes an existing landscape character assessment, which is in itself a good thorough report, and uses what really is a back of the envelope approach to stick wind turbines on to that. It appears to seriously overstate the impact of turbines on the landscape.
"Obviously planners do need to protect the landscape but if you look at where there are turbines and other small wind farms in the region, they have a lot less impact on the environment than people envisage when they are campaigning against them."
Neil Clarke, the leader of Rushcliffe Borough Council, said: "This isn't about the technical merits of wind turbines and the amount of electricity the produce - it is just one document, it is not the document about wind turbines.
"Its conclusions about the sensitivity of some areas are one factor that will be taken into account when assessing wind turbines."