Historians hope to save historical Hulton Archive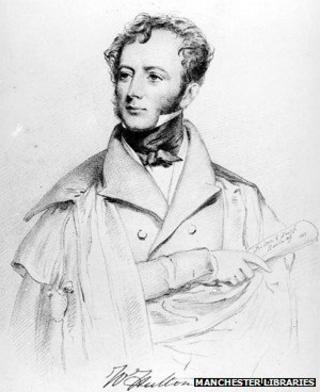 A group of historians hope to raise £95,000 to keep an archive relating to one of Bolton's oldest families as a public resource.
The Hulton Archive, housed in Preston since 1947, contains more than 1,000 documents dating back to 1199.
The Friends of Lancashire Archives fear it could be divided up and researchers would not be able to access it.
It is being sold by an anonymous individual who has given the friends the option to buy it before an auction.
The Hulton Archive was placed in the care of Lancashire County Council's records office for safekeeping by the family when the service was created in 1947.
It contains sections concerning turnpike roads, canals, railways, collieries, commons, churches, heraldry and genealogy - all freely available to be used by the public.
The collection of documents relates to the Hulton family and their estate in Bolton and are seen as a record of many important events through Greater Manchester's history.
---
Hulton Family
•The family arrived in Westhoughton in 1167 from Wales
•They owned a 1,000-acre estate which was rich in coal deposits
•In 1819, magistrate William Hulton ordered the yeomanry, a paramilitary force drawn from the ranks of the local mill and shop owners, to arrest speakers at a demonstration at St Peter's Field in Manchester - in motion what would become known as the Peterloo Massacre
•The last surviving member of the Hulton family was Sir Geoffrey Hulton. His family had owned the land for 800 years.
Source: Westhoughton Local History Group
---
Lancashire Archives Service Manager Jacquie Crosby said: "The documents weren't given to the county council, they were placed on a long-term loan.
"It's in very good condition and we want to save it so it remains intact and available for people to access in future.
"The collection includes an illuminated manuscript, relating to Cartmel Priory which is the only known surviving document that has a connection with the priory.
"If we can't raise the money by the end of November, there's a real chance it could all go to auction."