Ex-British Airways pilot 'blindfolded boy with sock'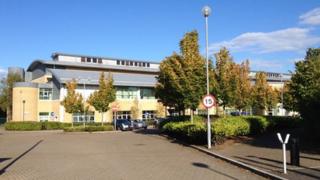 A British Airways pilot blindfolded a boy with a rugby sock and made him watch pornography before sexually assaulting him, a jury has heard.
Bartle Frere, 50, from Shipton Gorge, Dorset, is accused of a total of 25 sex offences.
He is accused of abusing two boys in the UK, as well as arranging the abuse of boys in India.
Appearing at Bournemouth Crown Court, Mr Frere, who has since left British Airways, denied all the charges.
In a video shown to the court, one of the alleged British victims, now in his 20s, said he engaged in sexual activity with Mr Frere about 10 to 15 times over a two to three-year period from about the age of 12.
He said it began at Mr Frere's house where he did odd jobs, including mowing the lawn and washing his car.
He said Mr Frere always offered him a bath and afterwards he would watch DVDs while wrapped in a towel.
Roller blades gift
The abuse began with Mr Frere rubbing his back and chest, he said.
The court heard, over the course of the alleged abuse, the boy was given money, fake designer clothes and a £250 pair of roller blades.
In the video, he said: "I would always get nice things. Sometimes I wouldn't have to work."
Previously, the jury was told a computer seized at Mr Frere's former home revealed six years of contact between the former pilot - who no longer works for British Airways - and teenage boys in India.
Mr Frere, who was arrested in November last year, is accused of five offences of arranging or facilitating the commission of a child sex offence, relating to boys in India.
He is also charged with five counts of indecent assault, one count of indecency with a child and two charges of serious sexual offences in relation to one of the boys from the UK.
With regard to the second UK boy, he is charged with one count of sexual activity with a child and one charge of attempting to record a person doing a private act.
The defendant also faces six charges of possessing indecent photographs of a child and four charges of making indecent photographs of a child.
The trial continues.