UK Coal deal delays Kellingley and Thoresby closures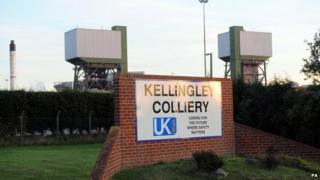 UK Coal has confirmed it has secured the funding needed to avoid the immediate closure of two deep mines.
The company still intends to shut Kellingley, in North Yorkshire, and Thoresby in Nottinghamshire, next year with the loss of 1,300 jobs.
Funding was essential to avoid the collapse of the business, UK Coal said.
The deal includes a £4m commercial loan from the government and "support from other partners" to ensure the managed closure of both pits.
Andrew Mackintosh, from UK Coal, said: "It was critical that we managed to avoid insolvency and the immediate collapse of the business.
"We are very grateful for the support we have been given and this deal does not prevent fresh investment in the company, even at this late stage."
UK Coal has blamed its financial problems on the global market and falling coal prices.
The company needed £20m and had initially asked for £10m from the government.
Mr Mackintosh said in addition to the £4m loan, it had received £16m from suppliers, customers and people with a "vested interest" in the business.
An employee buyout in conjunction with the National Union of Mineworkers was shelved in July.
It is thought the mines will close in Autumn 2015.