East Midlands Trains strike action suspended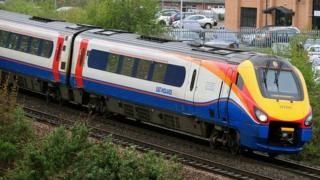 Strike action which would have affected East Midlands Train services for nearly a week has been suspended.
Engineering staff with the Unite union had been due to take industrial action from early on Sunday until the following Saturday in a pay dispute.
However, following "positive" talks, the union has agreed to call off the walkout.
The company said the staff were considering a new offer but did not give details.
About 80 staff were due to take action and a number of cross country services would have been replaced with buses.
Clare Burles, human resources director at East Midlands Trains, said: "The talks we held with Unite this morning were very productive and we are pleased they have suspended this industrial action.
"This is great news for our passengers and we will continue to engage constructively with Unite with a view to preventing this happening again."