'Failures' in Queen Elizabeth Hospital heart patient deaths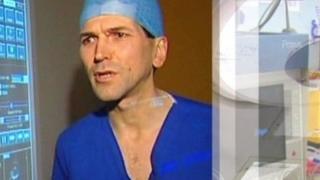 A surgeon under-reported how long more than 500 patients spent on a heart bypass machine, an inquest has heard.
The details were revealed at a hearing into the deaths of three patients operated on by Ian Wilson at the Queen Elizabeth Hospital, Birmingham.
Coroner Louise Hunt said there were failures in the treatment of all three.
Inaccurate data can stop warning levels being triggered but Mr Wilson's counsel has called the alleged discrepancies "irrelevant".
Alan Tringham, 78, from Hereford, Peter Brookes, 72, from Halesowen, and Alan Lucas, 77, from Solihull, died after being operated on in 2011 and 2012.
Ms Hunt said Mr Wilson had over-operated and took too long in all three cases.
Mr Wilson was sacked amid claims he inaccurately reported medical data.
'Significantly over-reported'
Investigations into Mr Wilson began in 2013 after an audit found 15 of his patients died over a 14-month period.
Hospital medical director Dr David Rosser told the inquest Mr Wilson had under-reported the time 539 patients spent on bypass machines by a total of nearly 330 hours since 2003.
Dr Rosser said there were problems stabilising patients who spent more than three hours on a bypass machine.
He also told the inquest at Birmingham Coroner's Court Mr Wilson "significantly over-reported" how many of his patients had unstable angina or hypertension.
This improved his surgical performance statistics because he was credited with dealing with more difficult cases, the inquest heard.
Dr Rosser said if it was known only four patients had unstable angina, and not 81 as was claimed, a review process could have been triggered as early as August 2010.
Mr Wilson's barrister, Andrew Kennedy, claimed an investigation had revealed delays in other surgeons' patients.
He said there was no evidence spending more than three hours on a bypass machine had led to more deaths.