South East Coast Ambulance Service to lose control room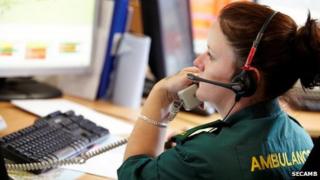 South East Coast Ambulance Service (Secamb) is to reduce the number of its control rooms serving Kent, Sussex and Surrey from three to two.
Outlining its plans for coping with expected rises in 999 calls in the future, it said it believed two would be better for staff and patients.
It would locate one of the emergency operation centres in Kent and the other on the Surrey/Sussex border.
It said they would increase capacity and in turn staff numbers.
More 999 calls
The move would also bring it in line with the majority of other ambulance trusts around the country which have two emergency operation centres.
Mark Bailey, a senior operations manager, said the current control rooms were very old.
"The buildings are not fit for purpose in terms of today's modern control room infrastructure requirement and we need to do something urgently to make sure that we can continue to provide our service in the future."
Acting assistant director of clinical operations Sue Skelton said the operation centres had reached capacity, and the number of emergency calls had increased by 25% since 2007.
"With demand forecast to increase by 5% year-on-year, we can't afford to do nothing."
She said the proposed changes would not have any impact on the way the service was delivered.