Political chess is game of chance as end game nears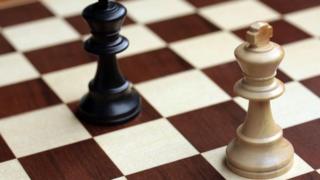 "It's like a game of chess," we used to say in days gone by.
Every move our politicians made could be analysed and interpreted, not only for its significance in the wider electoral tournament but also for the possible moves, or false moves, it might induce from opponents.
That all seems rather quaint now, viewed from our present standpoint where the table on which the chess board so precariously sits is being shaken by a constant bombardment of violent impacts: the very survival of the UK, the war on Islamic State and our future in or out of the EU.
No wonder the chess pieces are wobbling already and could soon be simply tossed up in the air to land who knows where.
And now, of course, there is a new player in the game. UKIP thinks the contest has for too long been the preserve of the same exclusive club of elite players.
"This is an unpredictable election," Ed Miliband told me in what could well go down as the understatement of last week in Manchester.
There really are so many imponderables piled one on top of another that assessing the likely outcomes next May looks less and less like a chess game and more and more like a mug's game.
For a start, this era of coalition government means that with the two biggest parties short of a Commons majority, they both have rival sets of target seats on the go at the same time. So they are both in the position of having to fight defensive and offensive campaigns simultaneously.
Our list of marginal seats here in the West Midlands shows that behind their ultra-close knife-edge marginals, Labour have some other narrow majorities to worry about before they start taking the Conservatives' chessmen off the board.
TOP 10 LABOUR MARGINALS
Dudley North (Maj 649 over Con)
Telford (Maj 981 over Con)
Walsall North (Maj 990 over Con)
Birmingham Edgbaston (Maj 1,274 over Con)
Newcastle-under-Lyme (Maj 1,522 over Con)
Walsall South (Maj 1,755 over Con)
Wolverhampton North East (Maj 2,484 over Con)
Birmingham Northfield (Maj 2,782over Con)
Birmingham Selly Oak (Maj 3,482 over Con)
Birmingham Erdington (Maj 3,277 over Con)
TOP 10 CONSERVATIVE MARGINALS
Warwickshire North (Maj 54 over Lab)
Wolverhampton South West (Maj 691 over Lab)
Halesowen & Rowley Regis (Maj 2,023 over Lab)
Nuneaton (Maj 2,069 over Lab)
Gloucester (Maj 2,420 over Lab)
Hereford (Maj 2,481 over LD)
Worcester (Maj 2,982 over Lab)
Cannock Chase (Maj 3,195 over Lab)
Warwick & Leamington (Maj 3,513 over Lab)
Dudley South (Maj 3,856 over Lab)
These numbers underline the extend to which the Midlands has traditionally been a predominantly two-party contest.
Liberal Democrat Lorely Burt stunned the Conservatives when she "crept in under the radar" in 2005 but now she has her work cut out to defend a majority of just 175 over the Conservatives.
How will the emergence of the Green Party, now the official opposition on Solihull Council, affect the chances of the larger parties?
Lorely Burt's party colleague John Hemming has turned Birmingham Yardley into something of a personal fiefdom, but Labour will be fighting hard to overturn his 3,002 majority and regain the seat he captured from former Education Secretary Estelle Morris in 2005.
The Liberal Democrats' only other Midlands seat is in Cheltenham where Martin Horwood will defend a more comfortable majority of 4,920 over the Conservatives in what is still the home of the Midlands' only Liberal Democrat-controlled council.
With confident predictions that the Liberal Democrats will lose many seats, perhaps it is to their traditional "core" constituencies that they may have to turn as they fight to limit the damage.
And into this otherwise two-way political street comes the new kid on the blog, UKIP, arguably the biggest imponderable of all.
If, as Nigel Farage says, they are not a repository simply for disillusioned Tory votes but a genuine mass party with broad appeal with their "tanks on Labour's lawn", how might they upset the two-party chess board?
Take Dudley North, for example, where Labour's wafer-thin majority over the Conservatives faces the additional challenge of the UKIP candidate Bill Etheridge MEP, who has turned his borough into a local power base.
'Politically toxic'
On the other hand, how will the Conservatives' tiny majority over Labour in Warwickshire North fare against not just an experienced Labour candidate, former minister Mike O'Brien, but also UKIP who have made great play of opposition to high-speed rail in an area where HS2 has become, to mix my analogies, politically toxic?
Or could the Midlands UKIP vote shrink, as it did in 2010 to just 4% after a performance in the previous summer's European elections which was impressive but not as emphatic as their clear victory in this year's EU poll?
The evidence of the local elections on the same day was that if you simply weigh the votes, it is the Conservatives who lose the most. But if you apply those numbers to real council areas (and Parliamentary constituencies?} you see it was Labour who suffered last May, failing to win majorities in target councils like Tamworth, Walsall and Worcester.
But in the remaining eight months before polling, perhaps the greatest imponderable of all is what politicians call "events" in a region which has always been particularly prone to the ups and downs of the economy.
The Birmingham and Solihull Chamber of Commerce has just reported a continuing surge in business confidence.
"Try telling that to young people in my constituency" says Ian Austin, the Labour MP for that key seat of Dudley North, where unemployment remains well above the national average and where wages continue to lag behind prices.
Put all these chess pieces together and you can see why even those politics watchers with the longest memories say they have never known an election as difficult to predict as this.
It helps to explain why the mood clearly detectable in Labour's ranks last week in Manchester was more uncertain than hopeful; why the Conservatives, behind Labour in the polls for so long, nevertheless closed their conference in Birmingham with more than a sneaking feeling that they could confound the sooth-sayers; and why I have it on good authority that senior Liberal Democrats are preparing to embark on their conference in Glasgow in a mood of innermost trepidation.
As the end game draws near, a game of chess has never looked more like a game of chance.....