Gatwick Airport flight path changes delayed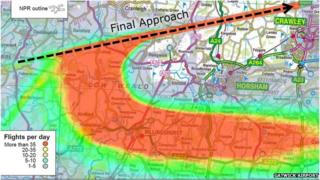 Changes to flight paths into Gatwick Airport are being delayed to consider what more can be done to reduce the impact of aircraft noise, bosses said.
A six-month trial of new paths ended in August, in work to help the airport make best use of the runway.
However, the airport insisted the delay was "not a cancellation of the process altogether".
There had been opposition to the changes from people living in Sussex, Surrey and west Kent.
'More time'
Bosses at Hever Castle warned the attraction may have had to close if it got a reputation for being affected by aircraft noise.
Tom Denton, who is the head of corporate responsibility at the airport, said: "We are taking more time to review the flight change options we have consulted on in order to further consider all the feedback received before making any airspace change proposals.
"It is clear that airspace change is a sensitive issue for the communities around the airport."
The airport said any changes would have to be made by 2020.