Amputee paratrooper bullied out of job at Brize Norton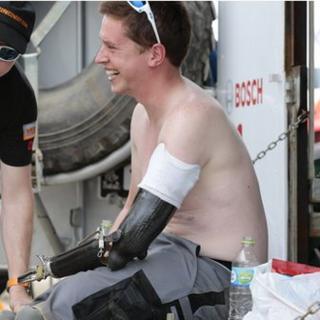 A paratrooper who lost both legs and an arm in combat has had his complaint upheld that he was bullied and harassed at RAF Brize Norton.
A military hearing in July heard that a Regimental Sergeant Major had told Tom Neathway "you're not much of a paratrooper any more", after he had been injured in Afghanistan.
The result of the hearing has just been announced.
Mr Neathway, from Worcestershire, said he was relieved the case had concluded.
After the announcement, an Army spokesman said: "Following careful consideration by a service complaint panel, made up of two senior Army officers and an independent member, a determination has made been about the service complaint made by ex-Cpl Tom Neathway.
"The panel, on behalf of the Defence Council, has formally apologised to ex-Cpl Neathway and has made recommendations for the chain of command to consider."
'Snide remarks'
Mr Neathway joined the Army at 17 and served in the Parachute Regiment for 13 years.
In 2008, he was injured while moving a sandbag that turned out to be booby-trapped.
In 2012, following his recovery, he took part in the Olympic torch relay and, in the winter of the same year, he joined the Race2Recovery team with other wounded soldiers to compete in the Dakar Rally.
The triple amputee also started training paratroopers but said he was bullied out of his job.
Mr Neathway said: "When I initially moved to RAF Brize Norton, I was in my element because I had like-minded people around me, especially within the Parachute Regiment part, who were assisting me in basically getting back on my legs and getting on with it.
"And then, it just got to a stage where I just hated being there.
"I had general harassment on a daily basis, snide remarks against me. There was lots and lots of it."
He added: "It still sickens me now that it happened but I chose to move on with my life and try to put it to the back of my mind for the last two-three years and now I finally can put it to bed and get on with it."