Wild mushroom foraging poisons 84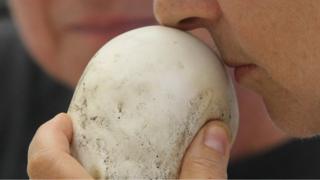 Eighty-four cases of wild mushroom poisoning have been reported just a month into the foraging season, according to Public Health England.
Some wild mushrooms can cause serious illness, with a portion being fatal.
Last year, PHE's National Poisons Information Service (NPIS) recorded 237 cases, many involving children.
The director of the NPIS unit, Dr John Thompson, said there are "very real dangers involved" in foraging wild mushrooms.
Dr Thompson said: "It is not always easy to differentiate between toxic and non-toxic species, even for people with experience in foraging".
---
Wild mushroom dangers
Dr John Thompson, Director of NPIS
Not all wild mushrooms are poisonous - some are tasty and non-toxic
However, many can cause gastrointestinal upset, leading to nausea, vomiting, abdominal cramps and diarrhoea
The most toxic wild mushrooms are the amanita species
Patients may also develop liver and kidney failure
If you do not know what type of mushroom it is, do not eat it. Eating only one or two mushrooms of some species may be fatal
---
The dangers of foraging were highlighted in 2008 when the author of best-selling book The Horse Whisperer was taken to hospital.
Nicholas Evans and three members of his family were put on kidney dialysis after eating toxic mushrooms they had gathered on a woodland walk.
'Still an art form'
However, according to 2009 MasterChef winner Mat Follas - who runs his own foraging classes in Dorset - there are "safe ways" to forage.
Mr Follas was taught by a woodland ecologist, and consequently advises that the safest way to forage is to be taught by an expert.
While he admires the continued presence of foraging in certain areas of England, he does not believe the practice should be widespread.
Mr Follas said: "It harms the environment and you can buy just as good in the supermarkets."