Cpl Geoffrey McNeill murder case: Soldier denies altering evidence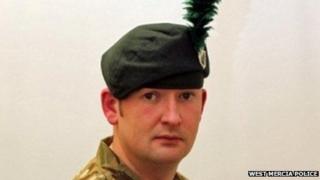 A soldier has denied changing his evidence against a colleague who is accused of murder.
L/Cpl Richard Farrell, 23, denies killing Cpl Geoffrey McNeill at Clive Barracks, Ternhill, Shropshire on 8 March.
Birmingham Crown Court heard evidence from another member of the Royal Irish Regiment, Cpl Robin McDowell.
Defence counsel Stephen Linehan QC suggested opinion among some soldiers had "hardened" against the defendant.
Car 'smashed'
Cpl McDowell replied: "No more so than against anyone accused of murder."
He confirmed Mr Lineham's claim that some soldiers had "smashed up Farrell's car" after he was charged.
The prosecution alleges that L/Cpl Farrell attacked the 32 year old in the barracks in revenge for being punched by McNeill during a drunken night out in nearby Market Drayton.
The court heard Cpl McNeill's neck was broken in three places.
Former soldier Jamie Gordon, who was with Cpl McNeill on the night he died, told the court he was uninjured when they returned to barracks at about 03:00.
Cpl McDowell told the court he had also been with him, but was not drinking because he was taking antibiotics and left early.
When he awoke, he said he was preparing to meet up with Cpl McNeill when another soldier told him "Geoff's dead".
The jury heard Cpl McDowell went up to see his friend and found him lying cold on the floor with L/Cpl Farrell in the room.
Cpl McDowell said the accused told him "he had wanted to come up and apologise for being an idiot, or words to that effect".
Prosecutor Christopher Hotten QC asked how Farrell had identified Cpl McNeill's room.
Cpl McDowell replied: "He said he had come up to the top floor and said he had seen it said 'Geoff McNasty' on the door."
The door's name plate in fact read Cpl Geoffrey McNeill.
Partisan parades
Under cross-examination, Mr Linehan asked Cpl McDowell why it was that the term 'McNasty' had not appeared in the witness statement he gave to police only the day after the body was discovered.
Cpl McDowell said he recalled "having a discussion with the police officer about McNasty" at the time, and had only realised it had been omitted from the written statement on the morning of Friday's hearing.
He was also asked about an incident at the barracks in July 2013 - on the eve of Northern Ireland's Twelfth of July celebrations - in which two groups of soldiers from the regiment appeared to be taking part in rival ad hoc parades, based along Protestant and Republican lines.
The soldier said it had been "a bit of banter".
He told the court some on both sides had been wearing balaclavas.
Mr Linehan asked if "there were some flutes and drums, like an Orangemen's parade in Ulster?" to which the corporal replied "yes, it replicated that".
The trial continues.