Oil found in tests drills on Surrey/Sussex border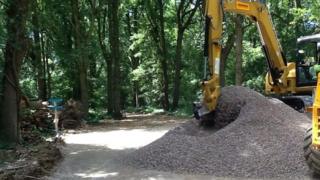 Oil has been discovered at a site on the Surrey/Sussex border and could be being extracted within two years.
Horse Hill Developments has been drilling an exploration well at Horse Hill, near Horley, just a few miles from Gatwick Airport.
Frack Free Surrey held a protest meeting on Sunday over fears the company may use fracking on the site.
The company says it guarantees that the fracking technique will not be used.
Hydraulic fracturing, or fracking, is a technique designed to recover gas and oil from shale rock. Opponents say the fracking process can cause small earth tremors.
Horse Hill Developments is linked to Angus Energy, which already operates wells at Brockham in Surrey and Lidsey in West Sussex.
Resident Christopher Lowe said: "Fracking is a potentially dangerous process to people's health and the consequences are not fully understood.
"If it's a single well, like Brockham, then there is not a problem In the end they will leave a nodding donkey which you won't see and there will be a tanker or two, or half a dozen a week, which is not a problem."
He said residents feared more wells could be drilled "every mile or so" each with a nodding donkey extracting oil at each.
"We could get another [well] in two years time, and this is a prospect which does worry people."
Reserves 'worth £2bn'
David Lenigas chairman of Horse Hill Developments, said: "I'm a land owner and farm owner and I wouldn't want fracking on my land and I certainly wouldn't be doing fracking in Horley.
"I have stated publicly that there will be no fracking at the Horse Hill site."
Geologists have suggested that the oil and gas reserves at Horse Hill site could be worth about £2bn, with production beginning in about two years, Mr Lenigas said.
"I think the concept of a nodding donkey every mile is not the reality of this project."