Stormy conditions affect Weymouth roads and ferries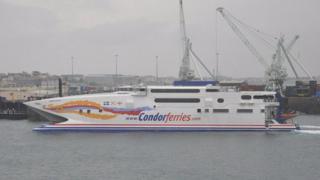 Flooding and high winds on the Dorset coast have caused ferry cancellations and road closures.
Condor has cancelled all it fast ferry sailings between Weymouth and the Channel Islands due to "adverse weather through the channel".
Flooding is affecting several roads in Weymouth with Commercial Road closed at the Custom House Quay junction.
The Environment Agency (EA) has also issued a flood warning for the Portland Harbour area.
Wind gusts were expected to reach 60mph at times with the water level expected to peak between 09:00 and 11:00 BST.
The adverse weather is the first since a £1m scheme to repair flood defences on Portland was carried out following last winter's storms.