Network Rail apologises for week of train delays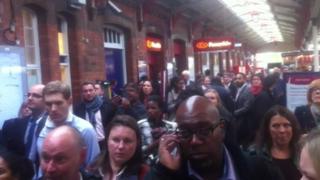 Network Rail has apologised for a "below standard" train service after three days of travel problems on the Great Western main line.
Passengers faced the worst delays on Monday, affecting services in the west of England, Reading, Swansea, Bristol, Oxford, Cheltenham Spa and Worcester.
Network Rail said it was "sorry for the problems" and was investigating the causes of the disruption.
Rail Minister Claire Perry will seek a full explanation from the firm.
'Frustration and inconvenience'
On Monday passengers faced a "severely reduced" service into Paddington after signalling equipment was damaged near Slough during engineering work.
Signalling problems at Ruscombe near Maidenhead on Thursday and at Twyford on Friday morning caused more delays.
A spokesman said: "Performance has been well below the standards passengers deserve and expect.
"We are acutely aware of the frustration and inconvenience felt by passengers when things go wrong."
He added the firm was "working constantly" to improve its train services, including "investing billions" across the rail network on new signalling, modern technology and trains.
Reading East MP Rob Wilson said he had spoken with Ms Perry "who is taking this issue very seriously" and would "seek a full explanation from Network Rail".
He added that Network Rail's investment would be "irrelevant if Network Rail takes its eye off the ball and allows serious and regular disruption to daily commutes, such as those seen this week".
Guy Dangerfield, from watchdog Passenger Focus, said: "Passengers will be frustrated by the succession of problems on the Great Western route out of Paddington recently.
"Quite rightly, Network Rail have issued an apology.
"The majority of recent problems have related to the infrastructure and Network Rail must redouble their efforts to make sure First Great Western passengers are not disrupted."