Wanted fraudster Peter Berry spotted in London bar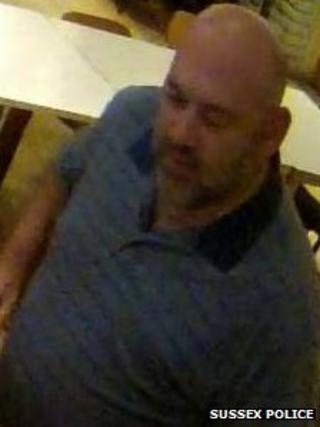 A fraudster accused of conning women out of tens of thousands of pounds since being released from jail has been spotted in London, police have said.
Peter Berry, 48, disappeared from his flat in Sea Lane in East Preston, West Sussex, after he was linked to three new cases of fraud.
He was seen in a bar on 28 September with a beard and speaking with "a thick Eastern European accent", police said.
Anyone with information is asked to contact Sussex Police.
Berry was sentenced to 63 months in jail at Truro Crown Court in May 2010 after he pleaded guilty to 19 fraud offences.
He was released in September 2012 and is accused of tricking a Swindon woman out of £20,000 a month later.
Berry, who also goes under the names of John Keady, Jay Smith, James Smith, Dr James Smith and Taz Keady, was released from prison early on licence.
He was recalled to serve the remainder of his jail term in November after being linked to new fraud offences since he left prison.
Berry persuaded a second woman from Southampton to lend him £18,000 and a woman from East Preston gave him £15,000 to invest for her, Sussex Police said.
Det Con Kev Reay said: "We are very confident that it was Berry in the bar as he was seen by someone who knew him well.
"We are working with police forces across the country to try to trace him but we also need the public's help.
"Berry targets single women, tells them extravagant lies and persuades them to give him large sums of money.
"He needs to be caught before he claims any more victims."