Slough signal problems: Cause still unclear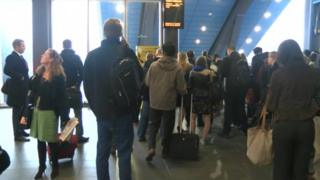 Engineers have not found the cause of the signal failure near Slough which led to travel misery, Network Rail has admitted.
First Great Western operated a "severely reduced" service into Paddington on 6 October, with more services delayed later in the week.
The fault is suspected to be down to damage caused by engineering work but further tests are being carried out.
Network Rail has apologised for a "truly horrendous" week.
The problems also affected services to and from the west of England, Swansea, Bristol, Oxford, Cheltenham Spa and Worcester.
A spokesman said it had been a "catastrophic" signal failure on Monday.
"The suspicion is that all the nastiness that happened on Monday was two problems, which were related, happening close to each other. How one affected the other, we're still looking at. It's still a bit of a question mark."
Signals on the stretch of line affected have still to be upgraded to be controlled from a new centre in Didcot.
"Within the next few months all the signals will be controlled from these new big centres we're setting up across the country," the spokesman added.
"The signalling is the most important part of the railway from the point of view of safety and obviously we have to be ultra careful about that, so when these things do go wrong, they have a disproportional effect."