How can disused historical churches be saved?
A charity charged with looking after disused churches is seeing its collection of beautiful, but high maintenance, buildings grow. In the face of funding cuts and rising costs, how can these churches be saved?
As a boy growing up in Bolton, Inayat Omarji watched a street parade with a "carnival atmosphere" outside his local Anglican church, but his overriding memory of All Souls is of a run-down, empty building in the middle of the bustling Muslim community.
All Souls is among hundreds of churches which have been closed by the Church of England as a result of declining congregations, population movement and other factors.
The well-preserved Victorian church - built by evangelical mill owners for the growing workforce - shut in the 1980s.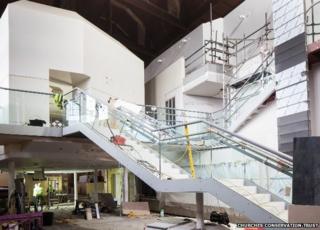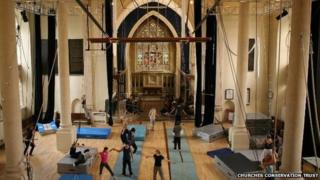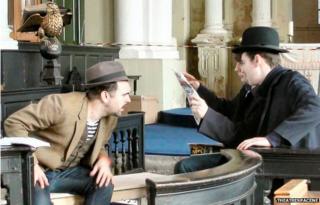 The Church of England, which closes 20 to 25 premises a year, put the Grade II* listed building into the care of the Churches Conservation Trust (CCT) because of its heritage value.
Mr Omarji, 36, was working for Bolton Council tackling anti-social behaviour through sport when he thought again about the church which he said had become "a bit of a magnet" for problems in the deprived area.
"There was a lot of graffiti at the back and I looked into how it could be cleaned up. It was the start of a conversation with the Churches Conservation Trust," he said. "It built into the idea of bringing the church back into use by the community."
Angel Award
A regeneration taskforce was established and the project was boosted by £3.3m from the Heritage Lottery Fund (HLF) in 2008.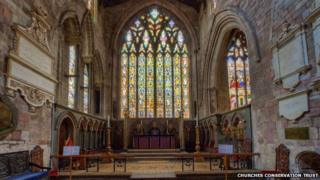 Six years later and All Souls is to open in December as a community centre, with meeting rooms, a classroom, conference and office space and concert area. It will host exhibitions and events, working with schools, museums and other organisations. Exhibitions will initially focus on the area's heritage and history.
As well as carefully restoring the church, architects have created a "building within a building" using interconnecting pods and a staircase.
On Monday night, Mr Omarji, now chair of the All Souls Bolton (ASB) trustees, won an English Heritage Angel Award for "Best Rescue of Any Other Historic Building or Site".
The centre will serve a very diverse community. "It will literally be for all souls," he said.
Mr Omarji hoped the centre which now has "pristine" walls would offer young people "realms of opportunities".
"It means they will have somewhere to go to," he said. "And I hope they will not just be inspired by the building but also have opportunities and bring in their own innovations."
The closure and disposal or sale of consecrated churches can take place under the Pastoral Measure which came into force in 1969 and also established the CCT to care for churches of national importance, when alternative uses cannot be found.

The use of 315 Church of England churches whose fate was settled between 2004 and 2013 includes:
16 put under the protection of the Churches Conservation Trust
73 used for residential purposes
53 put up for demolition or site disposal
22 made into offices or shops
32 given civic, cultural or community use
51 used for worship by other Christian bodies
8 used for education
18 became monuments
Source: Church Commissioners' annual report 2013
Robert Milton, of the CCT, called the Bolton project "exceptional" and said it showed how the trust's approach to preserving churches had changed since it took over All Souls.
"As an organisation at that time, our approach was to keep them dry and watertight - and sometimes open them up for visitors to see," he said. "We have effectively had to look hard at what we do."
'Back to life'
Mr Milton, Volunteering Officer for the West Midlands and North West, said All Souls may have had "a dozen visitors a year" after its closure, but now the emphasis was on bringing people in.
The trust, which saw its government funding frozen in 2001, has had to become increasingly self-funding and now raises about a third of its annual income of about £6m, Mr Milton said.
The CCT looks after 346, mostly Grade I listed churches, so costs are high.
Crispin Truman, the trust's chief executive, said: "Particularly over the last decade the aim has been to bring them back to life and make them relevant and at the centre of community life."
It represents a return to the central role many churches had when they were built, he said.
He said of the future: "People will have to be imaginative and it will take a lot of hard work but it is worth it because these churches are of so much value and are so amazing."
Chocolate festival
The trust now works with numerous organisations on projects which have led to a Bristol circus school moving to a city centre church, the planned creation of an arts centre in Sunderland and a Well Being Heritage Centre at the medieval St-Mary's-at-the Quay in Ipswich.
Mr Truman said tourism was important and the CCT's surveys showed people loved old churches and their "quiet reflective spaces" and beautiful architecture.
Mr Milton, who works from a cold but magnificent office inside St Mary the Virgin Church in Shrewsbury, said visitor numbers there had risen from about 47,000 to 54,000 a year since 2008.
The church closed for regular services in 1987 but is used for concerts, exhibitions and activities ranging from harp workshops to its first chocolate festival later this month.
Mr Milton said: "So really it is hustling and bubbling virtually all year round."
He said the trust had about 2,000 volunteers who were "key" to keeping St Mary's and many other churches open.
Meanwhile, Mr Omarji said a European delegation recently looked at how the All Souls project was being used to preserve a heritage building.
"I hope its legacy will be to inspire other projects and not just nationally," he said.