East Midlands freight hub 'will destroy area', residents say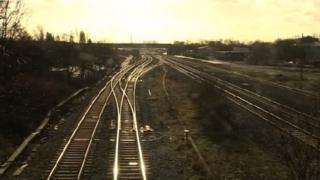 A 250-acre freight distribution hub planned for land close to East Midlands Airport will "destroy the area", campaigners have said.
If granted planning permission, the East Midlands Gateway freight depot will be built on farmland and woodland close to junction 24 of the M1.
Opponents have said the development would cover one of the last remaining green spaces in the area.
Developers said the proposed site allowed good access to the network.
Toni Harrington, from the Junction 24 Action Group, said: "We are in an area that is already suffering from over-development.
"We have the airport, ever-expanding housing developments, the racetrack and motorway network and we are on the proposed HS2 route."
The green space around Castle Donington and Lockington would be lost forever if the hub was built, she said.
The group, which is not opposed to development, said there were more suitable sites on nearby brownfield land.
The proposed development involves about 6,000,000 sq ft of warehousing.
Centrally located
Because of the nature of the Roxhill (Kegworth) Limited proposal for the Strategic Rail Freight Interchange (SRFI), near Castle Donington, it will be decided by the government.
Roxhill said the site was chosen to meet the government's own criteria for SRFIs.
The company said the East Midlands Gateway was centrally located - close to the motorway and airport - and had easy access to major eastern and southern UK ports.
It said its close proximity to Leicester, Derby and Nottingham also ensured job vacancies could be filled.
The hub is expected to create about 7,000 jobs once operational, as well as further employment through the construction phase.
In August, St Albans District Council launched a High Court action against the government as part of its seven-year battle against plans for a rail freight terminal in Hertfordshire.
It is also fighting plans for a terminal on green belt land on the Radlett Aerodrome site.