Devon and Cornwall Police 101 call-waiting times 'up 450%'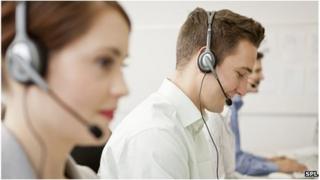 Waiting times for non-emergency 101 calls to a police force to be answered have risen by 450% since the service started, it has emerged.
Callers to the Devon and Cornwall force waited an average of 18 seconds in September compared with four seconds in September 2011.
The number was introduced for people to report crimes such as drug dealing, car theft and property damage.
Police said increased time in training had led to the rise.
The force revealed in a Freedom of Information request that average waiting times for 101 calls in the the last four months to September were 14, 15, 14 and 18 seconds.
Police commissioner Tony Hogg said waiting time was an issue frequently raised by people.
'Paralyses the public'
A review of the service is due to be published within the next four weeks.
"The public should be confident that they can contact the police and be dealt with effectively," Mr Hogg said.
"Too many people tell me that they have long delays when phoning the police."
One caller who has used the service five times in the last year, said she had to wait at least 16 minutes to be put through to a police station.
Gail Hickman, 63, from Bideford, said: "I called them recently about an abandoned car and that took 20 minutes.
"It paralyses the public because who can be bothered to wait that long?"
The force said its target was to answer at least 90% of 101 calls within 30 seconds.
A spokesman said it had "significantly invested" in training to "assess the vulnerability of each caller or victim of crime, as well as the level of risk, threat and harm presented".
It said: "This has increased the time taken to handle each call, however assessing this correctly is critical in order to protect the victim and public as well as ensuring an appropriate level of response for each call for service."
Policing minister Mike Penning said: "Police forces are responsible for ensuring 101 calls are answered within their local service standards.
"We are working with forces to support them to identify where improvements can be made."