University of Oxford secures proton beam therapy research cash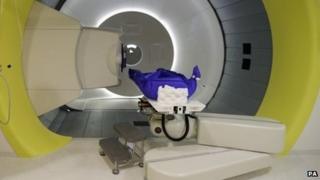 Funding for a £110m cancer research centre in Oxford has been announced.
The Precision Cancer Medicine Institute at the University of Oxford will carry out research into proton beam therapy, which uses a particle beam to destroy cancer cells.
It comes after the parents of brain tumour patient, Ashya King, five, took him from a Southampton hospital, against medical advice for the therapy.
NHS patients must travel to America or Switzerland for the treatment.
The NHS currently only sends patients abroad if their care team thinks they are a suitable candidate for proton beam therapy.
It uses charged particles instead of X-rays to deliver radiotherapy for cancer patients
The treatment allows high energy protons to be targeted directly at a tumour, reducing the dose to surrounding tissues and organs
In general, it gives fewer side-effects compared to high energy X-ray treatments
It can be used to treat spinal cord tumours, sarcomas near the spine or brain, prostate cancer, lung cancer, liver cancer and some children's cancers
Sources: NHS England, Cancer Research UK
The centre is expected to be built at the Churchill Hospital Old Road Campus site in three to five years.
It will be funded from a £35m grant from the Higher Education Funding Council for England through its UK Research Partnership Investment Fund.
The University of Oxford said the remaining funds would come from investors.
Two proton beam centres for the treatment of specific cancers, in Manchester and London are expected to open by 2017.
The centre will be lead by Professor Gillies McKenna from the University of Oxford.
"If you look at what cures cancer, in 90% of cases it is surgery or radiotherapy," he said.
"We need to focus on cancer at an early stage where surgery and radiotherapy remain options for patients, but where even with these treatments, the outcomes remain poor."
Ashya's parents, Brett and Naghmeh King, sparked an international police hunt when they removed their son and travelled to Spain on 28 August without medical consent.
His parents were arrested in Spain and held in a Madrid prison. Ashya was admitted to a Spanish hospital, prompting a public outcry.
A High Court judge approved a move to Prague to receive proton beam therapy after the couple had been released from police custody.