Other East Midlands HS2 hub sites to be considered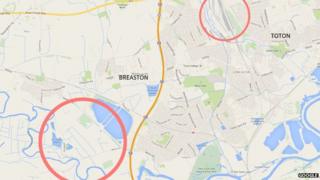 New sites in the East Midlands are to be considered for the location of the region's HS2 hub station.
HS2 chairman Sir David Higgins said alternatives to the proposed site at Toton would be studied to improve links to both Nottingham and Derby.
East Midlands councillors had claimed one option included Breaston, in Derbyshire, but this was not confirmed.
Sir David also backed plans for HS3, which could halve journey times between Nottingham and Birmingham.
'Physical choice'
Sir David said in his report, Rebalancing Britain, that an East Midlands hub continued to make sense but questioned if it should be in Toton, Nottinghamshire.
"I am now proposing we investigate alternative station sites to the west of Toton, which can provide much better road and rail connections via the M1 and Midland Main Line respectively," he said.
Councillors from both Derby and Nottingham agreed it was important to build an East Midlands hub but will continue to press the case for their city.
'Proved right'
Jon Collins, leader of Nottingham City Council, said he believed Toton was the best location for the hub while Derby City Council's deputy leader Martin Rawson said they would continue to campaign for it to be in Derby.
Anna Soubry, Conservative MP for Broxtowe which includes Toton, said she was disappointed because it looks likely the hub station will be located in Derbyshire but added it will benefit the whole region wherever it goes.
"I've been called all sorts of names for saying I was really worried it wouldn't come to Toton and unfortunately, to a large extent, I've been proved right," she said.
Meanwhile in Leicestershire, campaigners remain angry the route will pass through the county but not stop.
Andrew Bridgen, Conservative MP for North West Leicestershire, said: "[The report] leaves all the options open, creates more uncertainty and uncertainty will spread the blight even wider, affecting thousands and thousands of properties."