Thomas Cook plane returns to Gatwick as part falls off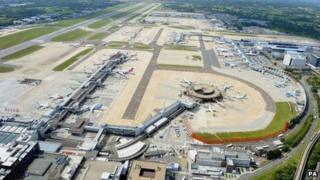 A plane bound for Egypt with 237 passengers on board has had to return to Gatwick after part of the aircraft fell off.
Thomas Cook said the fault was reported while the aircraft was over Belgium, and the plane immediately turned back.
The airline said an over wing slide had fallen and it was investigating.
The object is thought to have landed near the Kent and Sussex border. A probe by the Air Accidents Investigation Branch (AAIB) has begun.
A spokesman for Thomas Cook said flight TCX1638 from Gatwick to Hurghada landed safely.
"We are now immediately undertaking a full investigation and working with the airline authorities," he added.
He apologised to customers on board, who he said were all safe and well and due to leave the West Sussex airport on a replacement aircraft.
Gatwick confirmed the flight returned because of an issue with the aircraft and passengers had disembarked and were being helped by staff while the issue was investigated.
'No trace'
Kent Police said officers were called at 11:15 GMT to reports of an object falling from a plane above the Langton Green and Groombridge area.
A spokesman said: "Officers are trying to locate the object which is believed to have landed close to the Kent and Sussex border."
Sussex Police, which was also alerted, said its officers liaised with the Kent force and searched for more than two hours around the border of the two counties but could find no trace of any item that could have come off the plane.
The AAIB confirmed it deployed a team to Gatwick to investigate an incident with an airliner.