'Missing plane part' found at Kent church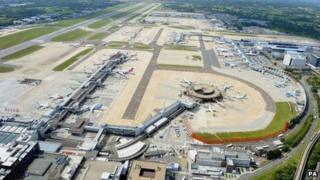 An item thought to be a missing part of an Egypt-bound aircraft that had to turn back to Gatwick Airport has been found in the grounds of a Kent church.
The object was spotted at All Saints Church in Langton Green near Tunbridge Wells on Saturday.
The Thomas Cook plane was over Belgium when a fault was reported on Friday and it turned back to West Sussex.
Kent Police said the Air Accidents Investigation Branch (AAIB) had been notified about the find.
A spokesman for the force said: "We had a call last night to Langton Green where someone thought they had found an item possibly from the plane."
He said officers now had the object and the AAIB would collect and examine it to confirm whether it had come from the aircraft.
The item was found in the church grounds and there was no suggestion it hit the building, he said.
The vicar at the church, the Reverend Michael Gentry, said he found a piece of metal and it clearly was not from a car so he called the police.
He said the object was about 2ft (60cm) by 6in (15cm) and a U-shaped piece of aluminium with a couple of bolts on it, and covered with black dirt and soot on one side.
Thomas Cook said investigations were continuing and it could not comment on the item that was found.
Wing unit
Passenger jet TCX1638 left Gatwick Airport on Friday morning bound for Hurghada with 237 passengers on board, but turned back when it emerged there was a fault with the plane.
Part of the aircraft - an over-wing slide unit - is believed to have fallen off near the Kent and East Sussex border.
The AAIB launched an inquiry and Thomas Cook also said it had begun a full investigation.
The airline said the plane landed safely back at Gatwick and passengers left later that day on a replacement aircraft.
Both the Kent and Sussex police forces carried out searches for the missing part on Friday afternoon but found nothing.