Devolution for the North: Catching the bus at last?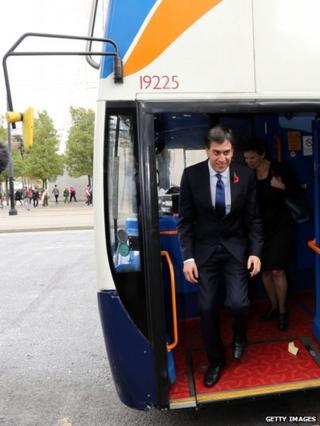 Devolution for the English regions is a bit like trying to catch a bus - you miss the first one, hang around for a while, and then half a dozen turn up virtually nose-to-tail.
Over the past few months just about every senior cabinet minister and their shadow have trekked north to announce that taxpayers' money by the lorry load will be heading our way and decisions on how to spend it will be made here.
There is, of course, the inevitable "but".
Not surprisingly it all depends on whether the minister or shadow making the promise is elected into government at next year's general election.
George Osborne and David Cameron have now twice appeared as a double act in Yorkshire to push their vision of a "Northern Powerhouse" linking up neighbouring cities including Manchester, Liverpool, Leeds, Hull and Newcastle with superfast trains stuffed with inward investors.
A few weeks earlier the Deputy Prime Minister, Nick Clegg, took part in a one-day conference of Yorkshire's "movers and shakers" making much the same point.
Not to be outdone, Labour leader Ed Miliband, trailed by several camera crews on a tour of an engineering works near Leeds, promised to snatch £30bn from Whitehall-based civil servants and hand it over to the North in a five-year plan.
All base their ideas on what they now see as the obvious logic that "local people know best" how to invest public money to boost the economy and bridge England's North/South gap.
The proposals vary, but democratic accountability, in the form of new directly-elected assemblies or regional parliaments, will not come into it.
Instead, extra responsibilities will be given to the various local and regional institutions already in place.
They all point out that when that first devolution bus carrying the destination board "directly-elected assemblies" reached the North a decade ago it found such a derisory number waiting at the stop that the service was cancelled for ever.
That was in 2004 when the then Deputy Prime Minister John Prescott planned referendums on whether three assemblies should be set up for Yorkshire, The North West and the North East.
The idea was met with an outbreak of apathy on such a monumental scale that Mr Prescott pulled the plug on two of them.
The third, for the North East, went ahead but saw an abysmally low turnout. Those that bothered to vote gave a thumping majority to the "no" camp.
As a result, none of the mainstream party leaders are going to risk ridicule by resurrecting the plans for another tier of salaried politicians in the north of England.
That despite equally strong support from the same party leaders for boosting the devolved powers of the Scottish Parliament and Welsh Assembly.
'Boris-style' mayors?
The idea is not completely dead in Yorkshire.
There are still calls for a new elected assembly for either the county or "The North" but the voices are from fringe parties and pressure groups not in any danger of being part of the next government.
The existing institutions vary in make-up and geographic boundaries.
Some, like Combined Authorities; business-led Local Enterprise Partnerships (LEPs) and City Regions have been set up by the coalition government to take on the job.
Local authorities, set up by the Victorians in their present form, will play a major role both directly and indirectly.
The latest idea for the North does involve a new wave of elections but only one new politician so far.
The Chancellor wants a "Boris-style", directly-elected "metro mayor" for Greater Manchester with powers over housing, transport and policing together with a big say on skills, welfare to work, and health and social care.
The new post, maybe the first of many, will be in office by 2017.
There is, of course, a "but" - see above.
A special devolution debate More power for Yorkshire? will be shown on BBC One in Yorkshire and Lincolnshire at 22:35 GMT on Wednesday 5 November.