European standards for beaches in England to get tougher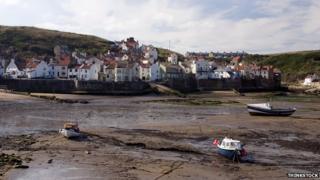 One in 20 English beaches that pass current bathing water cleanliness standards will fail tougher tests next year, the Department for Environment, Food and Rural Affairs has said.
99.5% of beaches in England met the basic standards for clean bathing water - up from 98.8% in 2013.
However, 5% of those will be classified as "poor" under stricter tests being implemented by the European Union.
They include Blackpool North and Central and East Looe in Cornwall.
Lyme Regis Church Cliff Beach in Dorset and Staithes in North Yorkshire do not meet the basic standards for clean bathing water at the moment.
'Tough new targets'
Water minister Dan Rogerson has admitted that meeting the new European standards for bathing water cleanliness will be "a challenge", but argues that "we are doing everything we can to help prepare."
He said seaside tourism was extremely valuable to the economy, contributing over £3.6bn every year.
---
European Environment Agency bathing water cleanliness guidelines
The European Environment Agency (EEA) tracks the water quality of 22,000 bathing sites across the EU, Switzerland and, for the first time, Albania
The UK is in a "transition" period. Assessing bathing water quality under the new directive requires a data set spanning four consecutive years, and this data is currently being compiled. As the UK started monitoring under the new legislation in 2012, four years of data will be available for the first time in 2015
Beaches in England will fail the new EU assessments if a high level of intestinal enterococci and Escherichia coli - bacteria that are prevalent in sewage - is present in the water
According to the EEA, better farming practices can help avoid animal waste that is washed out into seas and lakes during rain
Another major problem is sewers overflowing, particularly in the event of heavy rains. When this happens beaches should be closed until sampling demonstrates that bacteria have fallen to safe levels again
---
The Environment Agency has acknowledged the bathing water in Staithes - which failed the 2014 basic standards for clean bathing water - has ongoing problems with pollution, caused by the water being enclosed by the harbour walls.
According to the Environment Agency, even extreme measures such as putting gaps in the harbour walls would not reduce pollution levels enough to reliably achieve a sufficient quality standard.
The East Looe Town Trust, which owns Looe beach in Cornwall, said while it passed the bathing water cleanliness standards in 2014, its failure to do so in 2012 was down to "agricultural run-off and urban drainage flowing into the river following rainfall".
The trust admitted "we are not out of the woods yet and risks remain" but they were working in co-operation with the agency in advance of the new requirements, and had been monitoring bathing water quality and erecting daily advice notices.
The Environment Agency said it believed the new European standards were "a positive thing" that would raise the bar based on the best available science and protect the public and the environment.
It would like farmers to put measures in place to help reduce pollution to rivers by stopping manure from grazing animals getting into streams and rivers by putting fencing along water courses. It also urged famers to ensure manure was safely stored and applied to agricultural land so that water was not polluted.