'Loud bang' before soldiers killed in Afghanistan canal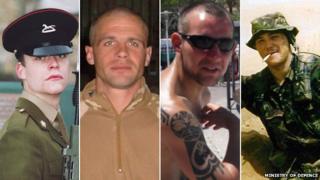 A loud bang was heard just before an armoured vehicle rolled into a canal in Afghanistan killing four soldiers, an inquest was told.
Colour Sgt Martyn Horton, from Runcorn, Cheshire, L/Cpl David Ramsden, from Leeds, Pte Douglas Halliday, from Wallasey, Merseyside, and Pte Alex Isaac, from the Wirral, died in Helmand in June 2010.
The area was "incredibly dangerous", their commanding officer said.
Risks included roadside bombs.
The soldiers were members of a police advisory team travelling as part of a two-vehicle convoy when their Ridgeback, a protected patrol vehicle, rolled into the Nahr-e Bughra canal.
David Ridley, coroner for Wiltshire, said the incident happened on the way to a police checkpoint.
He said: "The lead Ridgeback vehicle had just passed over a bridge, a loud bang was heard followed by someone shouting 'we're going in'."
Pte Michael Peers, managed to get out of the submerged vehicle and was hauled out of the water as he passed out.
"I heard a loud bang which was like an explosion. I do not know where it came from or where it impacted, if it did impact," he said in a statement.
"I felt the vehicle jolt and I thought it might be an IED (improvised explosive device).
"The vehicle then fell over on to its left side and submerged in the water. I didn't have time to take a breath.
"I couldn't remove my body armour and in my last moment of consciousness I managed to kick my legs."
'Obvious target'
Lt Col Paul Dupuy, the soldiers' commanding officer, said there had been a roadside bomb attack on a vehicle in the same area prior to the deaths.
He said: "It had been described to me as incredibly dangerous where Gereshk was seen as a potentially difficult situation."
He said the risks included roadside bombs, suicide bombers and direct attacks.
Col Dupuy said he was aware the route to the checkpoint was an "obvious target", but his team had been unable to find alternatives because of the size of other roads and paths and their mud or wooden bridges.
"We had an enormous challenge," he added. "The security situation in Gereshk was deteriorating, it was the second biggest risk after Sangin and Sangin was pretty bad at that time."
L/Cpl Ramsden was in the 1st Battalion The Yorkshire Regiment while the other soldiers were from the 1st Battalion The Mercian Regiment (Cheshire).