South Western Ambulance Service avoids unnecessary A&E trips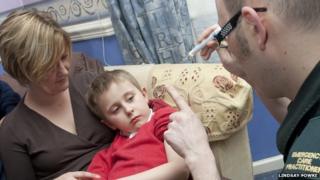 Paramedics in the South West who treat people at the scene of a 999 call are the best in England for avoiding "unnecessary admissions" to hospital, according to figures from NHS England.
South Western Ambulance Service said more than 54% of patients were now treated at home, at minor injuries units or referred to district nurses.
It said ambulances and beds were "there for those who really need them".
Since 2012, demand for ambulances has risen from 2,000 to 2,300 per day.
'Continual pressure'
Adrian South, from South Western Ambulance Service NHS Foundation Trust (SWASFT), said: "We recognise the continual pressure associated with increasing demand on ambulance services and the knock-on effects of this on hospital emergency departments.
"By equipping our staff with all the required skills to safely assess patients, and working with healthcare providers in each of the communities across the trust, we can ensure our staff have access to all of the available healthcare services."
Chris Nelson, from Unison, said: "In the absence of adequate health and social care provision in the community, the ambulance service has become the go-to place for health care.
"The organisation and the people who work within it are committed to ensuring that patients receive the right care at the right time and this may not be a trip to A&E."
Delays caused by ambulance queues outside hospital trusts across England were highlighted earlier this year after Labour obtained data from a Freedom of Information Act request.
SWASFT said it "worked hard" with the 18 acute hospitals in the South West and added it was "one of the best in the country to minimize handover delays in emergency departments".
It said all handover delays were reported to the Clinical Commissioning Groups (CCG) and reviewed monthly.
SWASFT covers Cornwall and the Isles of Scilly, Devon, Dorset, Gloucestershire, Somerset, Wiltshire, Bath, North Somerset, Bristol and South Gloucestershire.
Ambulance Quality Indicator (AQIs) statistics are collated by NHS England which collects data from all ambulance services in England.