Becky Godden murder: 'Items of interest' at Christopher Halliwell's former home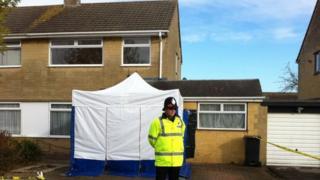 "Items of interest" have been found at the former home of a convicted killer by police hunting the murderer of a woman whose remains were found in 2011.
Twenty-year-old Becky Godden was last seen on 27 December 2002.
Taxi driver Christopher Halliwell led police to her body but could not be prosecuted after a judge ruled police ignored arrest guidelines.
Detectives would not provide details about the items but said they had been sent away for analysis.
Halliwell, 50, who admitted killing Sian O'Callaghan and is now serving life for her murder, lived at the address between 2005 and 2006.
Dogs trained to detect traces of blood and human remains are being used by the team to search the property at Ashbury Avenue in Swindon.
Det Ch Insp Sean Memory, who is leading the investigation, said he wanted to "reiterate our thanks to the occupants of the house who have no involvement in this investigation".