Tour of Britain 'boosted Surrey and Sussex economy by £3m'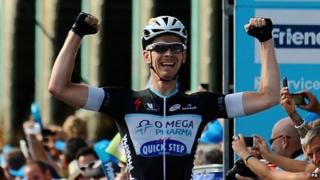 The Tour of Britain cycle race through Surrey and Sussex boosted the local economy by £3m, the organisers claim.
Tens of thousands of people turned out to see some of the world's greatest cyclists make their way from Camberley to Brighton in September.
Organisers SweetSpot said spectators spent on average of about £50, adding £1.29m to Brighton's economy and £3m to Sussex and Surrey overall.
The cycle race started in Liverpool and finished in London a week later.
Stage seven of the Tour, which was 225.1km (140 miles), saw cyclists race from Camberley, in Surrey, to the finish line on Brighton seafront.
Brighton and Hove City councillor Geoffrey Bowden said: "It was great for the city and having the country's most prestigious bike race following on from the Olympics and the Commonwealth Games has helped encourage more people to be active and take up cycling."