Road flood rescue blackspots revealed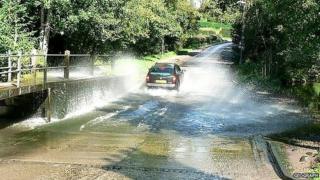 The dangers of flooded roads have been being highlighted by the naming of England's rescue blackspots.
The Environment Agency and AA said more than 21,000 rescues had been carried out since 2009 and drivers were taking too many risks.
Rufford Lane in Nottinghamshire, Watery Gate Lane in Leicestershire and Houndsfield Lane in Solihull had seen a total of 202 call outs in five years.
Officials called on motorists to study flood warnings and use other routes.
Figures showed there had been 21,687 flood rescues carried out by the AA alone since 2009, with the worst day being Christmas Eve 2013 - with 642 incidents.
Caught out
And a survey of drivers showed 60% would risk driving into flood water rather than take a detour.
Pete Fox, from the Environment Agency, said: "People take these risks, over and over again.
"They cite reasons including 'My satnav told me' but it often comes down to being in a hurry.
"But the bottom line is flood water is dangerous stuff and you just shouldn't go driving into it."
Seven of the top 10 black spots are fords and the report emphasised it took only 30cm (12 ins) of water to move a car.
Darron Burness, head of the AA's flood rescue team, said: "Fords catch a lot of people out.
"Just because it's a designated crossing point, don't assume that it's always safe to cross - the depth of the water and its flow rate can quickly change with the weather."
| Location | Rescues | Risk |
| --- | --- | --- |
| 1 Rufford Lane, Newark, Nottinghamshire | 96 | Ford |
| 2 Watery Gate Lane, Leicester | 56 | Ford |
| 3 Houndsfield Lane, Shirley, Solihull | 50 | Ford |
| 4 Riverside, Eynsford, Dartford | 43 | Ford |
| =5 Slash Lane, Barrow upon Soar, Loughborough | 42 | Road liable to flood |
| =5 Brockenhurst area, Hampshire | 42 | Road liable to flood |
| 7 Hawkswood Lane, Fulmer, Gerrards Cross, Buckinghamshire | 36 | Ford |
| 8 Bucklebury Ford, Berkshire | 33 | Ford |
| =9 Trescott Ford, near Wolverhampton | 27 | Ford |
| =9 Watery Lane, Wickford, Essex | 27 | Road liable to flood |
| | | |