Arboretum tops national treasure poll run by National Lottery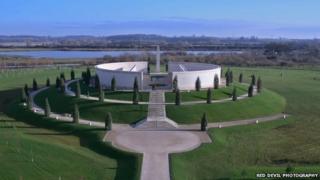 The National Memorial Arboretum has topped a poll of favourite places in England funded by the National Lottery.
The UK's centre for remembrance, in Alrewas, Staffordshire, was chosen by social media users in the National Treasures survey.
More than 66,000 people chose from 12 venues and landmarks in the survey which marks the 20th anniversary of the first lottery draw on 19 November.
Cornwall's Eden Project was second and County Durham's Beamish museum third.
The arboretum, which is part of the Royal British Legion, received more than £8m of funding, the National Lottery said.
Sarah Montgomery, the site's managing director, said they were "truly honoured" by the result.
"Our visitors come from all walks of life, and we now welcome over 10,000 school children every year," she said.
"For some, the primary draw is to pay respect to our Armed Forces, but for many others, it is about exploring the beautiful and fascinating natural landscape we have created, and gaining a greater personal understanding of remembrance in all of its guises."
'Deserving winner'
The centre, which receives about 300,000 visitors a year, contains more than 300 memorials, including the Armed Forces Memorial to commemorate service personnel, the Children's Woodland dedicated to babies and children who have died and the Millennium Chapel of Peace and Forgiveness.
In the survey, which appeared on Facebook, the Mary Rose Museum in Portsmouth was fourth and The Hepworth in Wakefield was fifth.
The other shortlisted candidates were: Wembley Stadium and the Queen Elizabeth Olympic Park, both in London, Manchester Sport City, The Lowry in Salford, the Museum of Liverpool, Leicester's National Space Centre and Turner Contemporary in Margate.
Jackie O'Sullivan, director at the National Lottery Promotions Unit, said: "The National Treasures survey was a fun way of celebrating these places and recognising the contribution Lottery players make towards them.
"The National Memorial Arboretum is a very deserving winner. Thanks to everyone who took the time to vote for the people and places they care about most."
National Lottery players have raised more than £32bn and 430,000 projects across the UK have benefited, the organisation added.
As well as voting for England's favourite place, social media users chose Stephen Fry as their favourite "national treasure" for his work as president of mental health charity Mind and patron of Norwich Playhouse Theatre.