Consett KP Snacks Phileas Fogg factory to close next year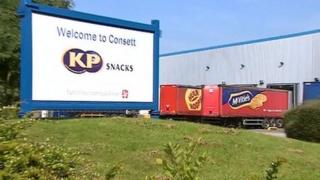 A crisp factory in County Durham will close next year, putting more than 100 jobs at risk.
KP Snacks confirmed it would shut the plant in Consett, the original home of the Phileas Fogg brand, after a consultation.
The firm is streamlining operations and may transfer jobs to sites in nearby Tanfield and Billingham, Teesside.
The GMB union, which represents workers at the plant, called the move "devastating" to the 103 employees.
A statement from KP said: "Collective consultation has now closed at Consett and we can confirm that the site will close in 2015.
"We are now commencing individual consultations with those impacted."