Ringwood A31 to get extra lane and safety changes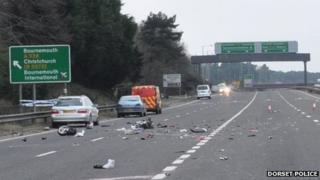 An extra lane is to be added to a stretch of road where a 16-year-old moped rider was killed .
The A31 will be widened to three lanes at Ringwood to increase capacity and substantially improve safety.
Jade Clark was hit on the A31 near Ringwood on 24 February 2013. She was then struck by a VW minibus.
The works form part of a £15bn "roads revolution" for England announced by the government.
The works will also see changes made to nearby road networks to provide improvements for pedestrians.
Desmond Swayne, Conservative MP for New Forest West who lobbied for improved signing and a reduction in the 70mph speed limit, said: "We didn't think we'd ever get the money to redesign the section.
"Out of the blue I've discovered it's now on the table and it's a very welcome surprise."
Following Jade's death more than 70 "enhanced, clearer" signs were placed on the stretch of road to improve safety by the Highways Agency.
The signs, installed in August, were put up to help drivers pick the right lanes for their trip and avoid last minute lane changes.
Campaigners were unsuccessful in their attempts to have the 70mph speed limit reduced.