West Midlands Ambulance Service called for lift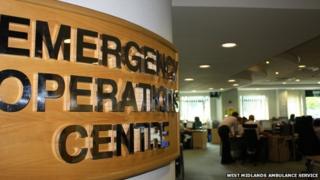 A drunken appeal for a lift to a city centre is just one of the 999 calls released by West Midlands Ambulance Service in a bid to cut inappropriate calls.
In one conversation, a man requests an ambulance for his cat, after it was attacked by his dog.
In another, a man asks for a lift to Wolverhampton after becoming "stranded" during a night out.
The Ambulance Service said hoax calls caused delays and put lives at risk.
Other calls received by the ambulance service over the last year featured injured pets, with operators forced to remind people they deal with "humans not animals".
Jenny Cocks, in charge of emergency call operations at the the trust's base in Brierley Hill, said it regularly dealt with up to 3,000 calls a day.
The number of emergency calls is expected to be even higher over the Christmas period and usually peaks on New Year's Eve.
"Unfortunately not all of these are appropriate for the ambulance service and sometimes people do forget that 999 is for life threatening injuries and illnesses," Ms Cocks said.
Alongside a "small number" of hoax calls, the ambulance service said there were also non-emergencies that could have been better dealt with by the 101 number.