Skeleton champion Lizzy Yarnold appointed MBE by Queen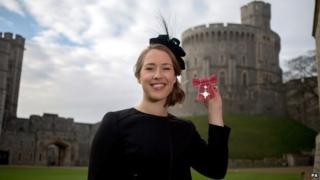 Olympic skeleton champion Lizzy Yarnold has been appointed MBE by the Queen for services to sport.
The 26-year-old, from West Kingsdown, near Sevenoaks in Kent, won Great Britain's only gold medal at the Sochi Games in the women's skeleton.
Yarnold, who now lives in Bath, said she was extremely nervous about meeting the Queen.
She said: "She was very warm and kind and we spoke quite freely and openly about Sochi."
Yarnold took over the Olympic skeleton title from her former landlady, Amy Williams,
She said: "She said she was really pleased to award me the MBE and she knew all about Sochi and the event, and had it all gone well and was it cold enough there for the event.
"She seemed very knowledgeable of the sport of skeleton, and she wished me all the best of luck for the future."
On Saturday Yarnold flies to America to defend of her World Cup title.
She has been shortlisted for the BBC Sports Personality of the Year, with the ceremony taking place in Glasgow on 14 December.