'Manbeast' letter to former bully 'crazy' Facebook hit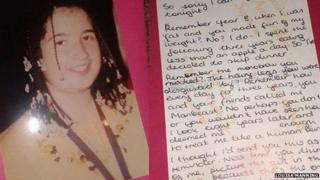 A woman whose letter to a former school bully who called her "manbeast" went viral on Facebook has described the response as "crazy and overwhelming".
Louisa Manning, a student at Oxford University, wrote the note after being invited on a date by her tormentor.
But she stood him up, giving the message and an old photo to a waiter at the restaurant where they were to meet.
"I thought my Facebook friends would find it entertaining," she said. "I didn't expect 18,000 Likes."
Ms Manning said she bumped into her would-be-suitor at the Oxford Yule Ball, 10 years after she was teased by him at a school in Cambridgeshire.
During the conversation he told her how she looked "so different", made "objectifying comments", and asked her out.
She said: "I obviously didn't actually want to date him, because he wasn't very nice to me.
"So I found a photo of myself from Year 8, wrote a message on the back, gave it to the waiter, and asked the waiter to give it to him when he got to the restaurant."
'Mocked monobrow'
Ms Manning, who studies archaeology and anthropology at St Peter's College, said he texted her an apology ten minutes after she posted her story on social media.
In the letter she wrote: "Hey, so sorry I can't join you tonight.
"Remember Year 8, when I was fat and you made fun of my weight? No? I do - I spent the following three years eating less than an apple a day. So I've decided to skip dinner.
"Remember the monobrow you mocked? The hairy legs you were disgusted by? Remember how every day for three years, you and your friends called me manbeast?
"I thought I'd send you this as a reminder... next time you think of me, picture this photo, because she's the one who just stood you up."
Ms Manning told the BBC that writing the letter was a cathartic experience.
"It was a really nice feeling sending him that note, and especially when he apologised. It's a ten year late apology, but I got an apology."