Diabetes amputations are 'too high' say health bosses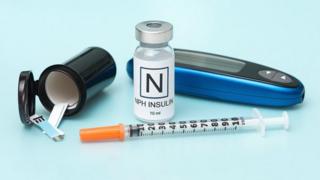 The number of diabetics in Cornwall, Devon, Dorset and Somerset who have had amputations due to their condition is too high, health bosses have admitted.
About 1,500 procedures to remove limbs were carried out in the four counties over three years.
Charity Diabetes UK said 80% of amputations were avoidable if more care was available to prevent complications.
Health bosses said they were "acutely aware" of the situation and were improving education about diabetes.
Diabetes and amputation
The risk of amputation comes from damage done to nerves and blood vessels
Extremities of the body such as feet are worst affected
With correct foot care and education, limb loss can be avoided
Source: Diabetes.co.uk
Diabetics must know their blood sugar level to stop it going dangerously high or low.
Poorly-managed blood glucose levels can lead to serious complications such as blindness, amputations and stroke.
Of the 1,562 amputations among diabetics carried out across the counties between 2010-2013, 528 were classed as major - above the ankle - statistics from Public Health England said.
The national rate for major amputations at that time was 0.9 per 1,000 people with diabetes. Areas across South West England saw rates of between 0.8 to 1.5.
Phaedra Perry, from Diabetes UK, said evidence showed amputation levels were reduced in areas where teams with the right expertise were in place.
However, diabetic Jacqueline Heather, from St Austell, Cornwall, said patients, not just health staff, had to be "aware of what to look for",
Number of major amputations 2013-13
National rate is 0.9 per 1,000 people with diabetes
NHS NEW (Northern, Eastern and Western Devon) Devon Clinical Commissioning Group CCG area - 1.5
Somerset - 1.4
Cornwall - 1.2
Dorset - 1
Torbay and South Devon - 0.8
Source: Public Health England
Dr Gary Lenden, from the NEW (Northern, Eastern and Western Devon) Devon Clinical Commissioning Group - which had the highest rate in the counties - said: "It's something we're clearly concerned about and acutely aware of."
He said managers saw the need "to improve the education for primary care teams" and staff were also working on improving education for patients so they had an "understanding of their own condition".
He added that staff were also working on "getting diabetes teams into the community".